English/Japanese



Virtual reality
A novel display system named gactive displayh was proposed for bi-directional telexistence system in 2004. It consists of a 5-bar spherical parallel mechanism, a LCD and 3 actuators. The LCD is moved by the parallel mechanism along a spherical surface whose center is at the head of the operator. Its motions are synchronized with a remote camera system. As a result, the operator can see anywhere in the remote environment with realistic sensation similar to a Head-Mounted Display (HMD). In addition, the facial information of the operator can be easily acquired because the monitor is separated from his/her face. This feature yields a big advantage compared with the HMD. Furthermore, it allows the operator to access peripheral devices very easily.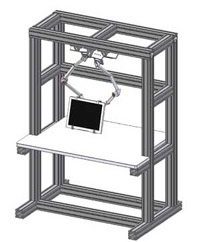 Fig.1 Overview of an active display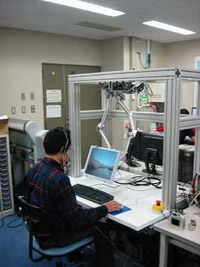 Fig.2 Photo of the active display
References
Y. Tsumaki, T. Sato, S. Kawai, gAn Active Display,h Proceedings of Virtual Reality Society of Japan the 9th Annual Conference, pp. 443-444, 2004 (in Japanese).
Yuichi Tsumaki, Satoshi Kawai and Takuya Sato, Development of an Active Display, Proceedings of the 17th International Conference on Artificial Reality and Telexisitence, ICAT2007, Esberg, Denmark, pp. 71-78, 2007.
---

Research Top